BLOG
This is where we share current news and updates from Soul Squeeze Cellars.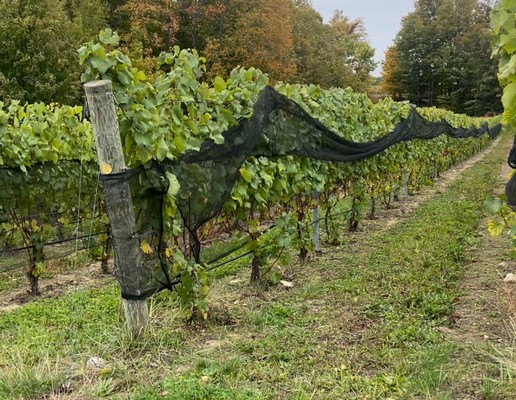 As the autumn leaves paint a tapestry of red and gold across Michigan's wine regions, wineries across the state are wrapping up a journey that's been both challenging and rewarding. The end of harvest season marks a crucial milestone, and at Soul Squeeze Cellars, we have exciting news to share. We successfully harvested Chardonnay and Pinot Gris for our upcoming "Motor City Squeeze" wine with the Detroit Pistons. But that's not all—this year, we also welcomed a new varietal to our winery: Blaufränkisch. Join us as we celebrate the end of harvest and delve into the unique stories that have unfolded in Michigan's vineyards.
The Culmination of Months of Care and Patience
Harvest season in Michigan is a culmination of months of meticulous care, patience, and anticipation. It's a time when the fruits of labor, quite literally, come to life. This year, the Chardonnay and Pinot Gris grapes we've carefully nurtured have been harvested to become an integral part of our "Motor City Squeeze" wine, a co-branded masterpiece with the Detroit Pistons. This exceptional wine promises to embody the essence of Michigan's winemaking heritage
The Michigan Harvest: Challenges and Triumphs
Michigan's climate, with its unique mixture of lake effects and temperate seasons, presents challenges that winemakers deftly navigate during the harvest. Rapid temperature changes and the ever-present threat of frost require vigilant monitoring and adaptation. Despite these challenges, Michigan's wineries continue to flourish, producing wines that showcase the diversity and excellence of the region.
A Rich Tapestry of Flavors
The end of harvest is a time when winemakers can reflect on the rich tapestry of flavors that Michigan's landscapes offer. Each grape variety tells a unique story, capturing the essence of the region's terroir. Whether it's the crispness of Chardonnay, the vibrancy of Pinot Gris, or the bold character of Blaufränkisch, these grapes reflect the diversity of Michigan's winemaking heritage.
Raising a Glass to Michigan's Winemakers
The end of harvest season is a time to not only acknowledge the hard work and dedication of winemakers but also to revel in the splendid flavors that Michigan's vineyards have to offer. We invite you to join us in celebrating this remarkable journey, and we can't wait to share the results with you in our upcoming wines.